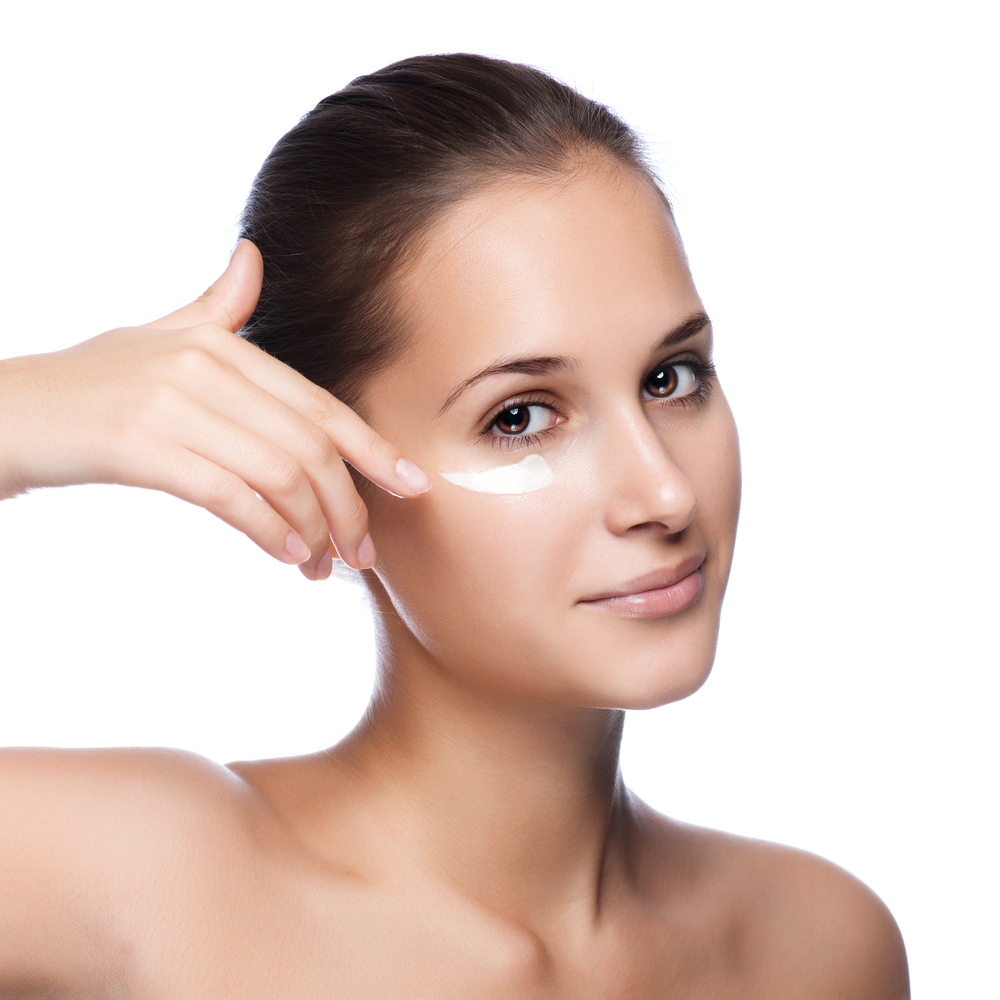 Eye treatment is the answer to the thin, delicate skin around the eyes. This area is one of the first to show the signs of aging.  It requires extra care and attention to help reduce the look of crow's feet, lines, wrinkles, and discoloration.  EMK has some of the finest eye treatment products on the market today!  Further, if you need clinical-strength, dermatologist-recommended eye skincare or a soothing organic eye cream, you can find it at EMK.  From anti-inflammatory peptide serums and collagen capsules to face-firming sprays and eye creams with retinol and vitamin K, EMK's selection of skincare for the eyes can help rejuvenate and reinvigorate your skin.
Getting The Proper Eye Treatment
The skin around the eyes are softer, smoother, and needs more hydration.  Hence, EMK's dedicated eye treatments feel luxurious and visibly improve one of the most delicate areas of the skin.  The skin surrounding your eyes requires gentle care and often extra attention, especially with age.  EMK has produced some high-quality eye care products to address your individual needs.  This broad selection includes eye creams, eye serums, eye treatments, and even eye masks.
Eye Treatment Products 
EMK Has Skincare Products Especially Formulated To Treat The Skin Surrounding The Eyes.

Diminish Dark Circles, Puffiness, And Fine Lines For A Wide-Awake Lifted And Radiant Look.
These Top Rated Eye Treatment Products From EMK are:
Radical Eye Cream – intensely hydrates and makes the eyes look smoother and more radiant with diminished expression lines, crow's feet, and wrinkles. It significantly reduces the appearance of under-eye darkness and puffiness with advanced BIOPLACENTA® and natural peptides.
Beam Eye Gel – significantly diminishes the appearance of dark circles and puffiness for an awakened, brighter look. Hydrating hyaluronic acid and clinically-proven, firming peptides make lines and wrinkles look smoother and improves skin radiance. EMK BIOPLACENTA® proteins enhance the absorption of antioxidant vitamins to help protect skin from environmental assault.
Eye Patch – gives an instant lifted look as it firms, tones, and totally refreshes the delicate eye area with natural marine extracts. Collagen and elastin improve resiliency to tighten skin and make it look firm and toned. It smoothes wrinkles so they appear less visible. Exclusive EMK agave Bioplacenta® energizes skin and helps enhance penetration for optimal benefits. Clinical testing proved that just one treatment increases hydration up to 169%. Makes eyes appear younger-looking, relaxed, rested, and awake.
A little eye cream goes a long way!  No more than the length of one rice grain is needed per eye. To help prevent puffiness, EMK's experts recommend applying eye cream to the orbital bone, away from the lash line.  Most importantly, the thin skin around the eyes will pull the product up to where it's needed most.
Whether you're waking up to face a brand new day or ending a night on the town, these eye care products will help you cleanse, renew, and rejuvenate your skin. Often, people forget to pay attention to the eyes except when putting on makeup, but, if you want to fight the signs of aging, your eyes are the place to start.  The eyes may be the windows to the soul, but it's the skincare you choose for your eyes that can keep your soul-window looking youthful and ready to take on anything.  
When it comes to caring for the delicate eye area, it's best to do so twice a day – once in the morning and once at night. Moisturizing this fragile skin is the key to keeping it looking supple and healthy. After cleansing your face, try using a Lifting Eye Mask. 
The Perfect Eye Care Routine:  Eye Cream, Eye Gel, & Sleep Mask.  The best benefit of a sleep mask is that it blocks out almost all of the light to let your body get a more relaxing sleep.  Having a sleep mask that blocks out the light in your sleeping area will help you sleep better — especially if you work the graveyard shift and do most of your sleeping during the day.
To Learn More And To Purchase These Great Products From EMK, Click On The Red Text Link  ⇒ 

Want it? EMK has it!

⇐  And Go Get These Fine Products Under Eye Treatments!
Eye Treatment – The 7 Best Ways To Care For The Skin Around Your Eyes
1.) Moisturize The Skin Around Your Eyes!
Moisturizing your skin is one of those underrated steps that often falls by the wayside but shouldn't.  Imagine your skin as a grape. When it loses water, it starts to shrink, and wrinkles can appear.  But once you put that water back in, it can help plump up and potentially reduce the appearance of lines and wrinkles. The same applies for our eye area. Since they lack oil glands (our skin's natural moisturizer), they can be more prone to dryness.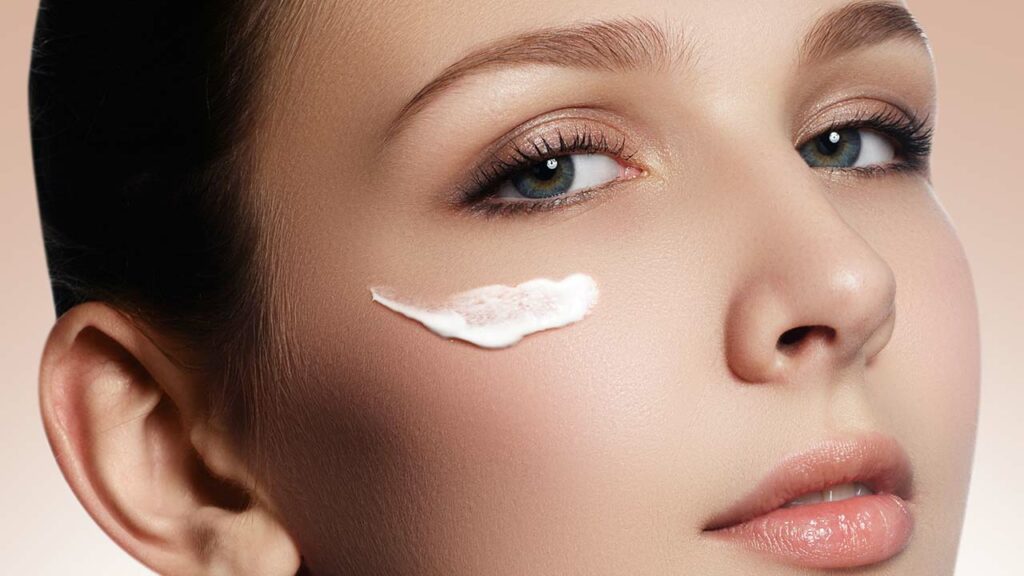 The most commonly asked question about moisturizing this part of your face is whether you can use your face moisturizer for the skin around your eyes. The answer is yes. As long as it doesn't irritate your eyes and provides a sufficient amount of moisture, you're good.  Keep in mind, however, that since the skin is thin around your eyes, it can be sensitive to regular face cream. If you feel a stinging sensation or your eyes turn watery or red, avoid using your regular face moisturizer, and instead invest in an eye cream.
Eye creams are often formulated with ingredients less likely to have an adverse effect on your eyes but contain enough active ingredients that will help reduce wrinkles and fine lines.
2.) Check The Ingredients
When you're on the hunt for the right eye cream, it's important to know which ingredients to look for based on what you're trying to treat.  Below you'll find ingredients that you should choose based on your concern:
For Fine Lines
Aside from hydrating humectants, used to reduce the loss of moisture, you'll want to look for ingredients that provide an immediate "plump up" effect.
For this result, opt for more potent ingredients that have been linked to stimulating collagen production. These include:
retinoid (prescription-based)

retinol (over-the-counter options)

vitamin A derivate

peptides
For Hyperpigmentation (Dark Circles)
To combat hyperpigmentation (dark circles) caused by the sun's UV rays, you'll want to look out for the following ingredients:
arbutin

hydroquinone

kojic acid

vitamin C

soy

niacinamide (vitamin B-3)

azelaic acid
For Puffiness
The remedy for puffy eyes can be as easy as getting enough sleep or drinking enough water. But when it comes to skincare ingredients, the following may help reduce puffiness:
caffeine

green tea and coffee berry polyphenols

dipeptide-2

willow herb
For General Concerns
For more general concerns about the skin around your eyes, look for antioxidants. These powerful ingredients help remove free radicals in the skin that are triggered by UV radiation, smoking, and pollutants.  Moreover, they may also help put a brake on the aging process.
Look For The Following:
vitamin C

vitamin E

green tea

vitamin B-3 (niacinamide)
From removing your eye makeup to applying products onto the skin around your eyes, it's important to be gentle. As we mentioned above, the skin under your eyes is very thin. Because of this, the extra pressure from your daily activities has the potential to contribute to extra fine lines.  The following are a few tips for ways to be gentler during your skincare routine:
When You Remove Your Makeup



Apply your favorite eye makeup remover to a cotton pad.

Press the pad gently onto your skin.

Slowly drag it in an outward motion.

Repeat until your makeup is fully removed.
When You Apply Your Products

Apply your product to your pinky finger.

Dab your products around the eyes, circling your eye area. Don't forget the upper eyelid.

Repeat until the product is fully absorbed into the skin.
3.) Eye Treatment – Sun Protection Is A Must
Sun exposure can play a big role in the skin aging process and can lead the skin under your eyes to become darker.  A broad-spectrum sunscreen is truly an indispensable part of any skincare routine and should be applied every day. Even if it looks gloomy outside, UVA rays can still cause damage.
Also, don't forget your upper eyelid.  This is one of the most overlooked areas when it comes to applying sunscreen. In addition, if reapplying sunscreen on top of makeup, especially eye makeup, is too much of a hassle, consider investing in a pair of sunglasses that offer UV protection. This can help protect not only your eyes but also the skin around them from unwanted UVA and UVB rays.
4.) Treat Yourself To A Massage
If you notice that your puffy eyes tend to come and go but look more obvious when you're tired or haven't been sleeping well, a simple massage might do the trick.  Also, other than some genetic factors, fluid retention can cause puffy eyes. This may be the result of a meal high in salt, lack of sleep, or even too much sleep.  Massaging under your eyes can help improve the circulation around them.  Further, the pressure from the massage may help drain excess fluid around this area and reduce puffiness.
Moreover, if you're able to invest a little bit of cash, a refrigerated jade roller may help you to relax the tension around this area and reduce puffiness.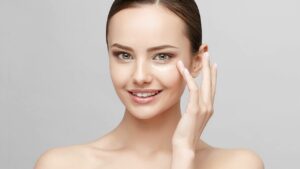 5.) Sleep, Eat Well, Exercise, Repeat
When it comes to changing your lifestyle habits and protecting the skin around your eyes, I'm a big advocate for what shows on the outside reflects what's happening on the inside.
We Subscribe To Three Lifestyle Practices:
get more sleep

exercise

try to follow a good healthy diet
Try to get at least six hours of sleep every night and regular exercise to improve blood circulation.  For most people, when they don't get enough sleep or exercise, not only do they feel fatigued much easier, but the skin around the eyes will become darker, puffier, and look "unhealthy."
Also one should practice eating a balanced, healthy diet.  Look for foods high in potassium, like bananas. Drinking enough water every single day is also important.  In addition, a good rule to follow is eight 8-ounce glasses daily, though this may vary from person to person.
Eye Treatment – smoking and skincare:  If you're looking to quit smoking, you've now got one more reason to: premature wrinkles.  Smoking cigarettes can speed up the normal aging process by impairing blood flow to your skin and damaging your levels of collagen and elastin.  Both of these contribute to your skin's strength and elasticity.
6.) Taking The Nonsurgical Route
While prevention should always be your first option, especially if you're under the age of 30, genetics and age can still work against you.  If you've hit the point where topical treatments simply aren't working, there are a number of nonsurgical options out there, from laser resurfacing and neuromodulation (Botox) to fillers.  Also, these procedures may help remove crow's feet, aid in the loss of volume under your eyes, and provide an all-around "younger" look.
Most importantly, while these fixes are quick, the price tag is often eye-popping.  Botox can start from $550 per session.  On the other hand, laser treatments can start from $1,031 per session.  Paired with the fact that the outcome of these treatments isn't necessarily permanent, consider consulting with a doctor first. They can discuss whether this is the right option for you.
Chemical peels are another excellent solution for treating under eye wrinkles. These treatments are not your standard eye wrinkle creams and should only be performed by a board-certified dermatologist or aesthetician.  Also, they employ chemical solutions — often made with alpha hydroxy acid, glycolic acid, or trichloroacetic acid — to deeply exfoliate the skin and eventually cause the top dermal layers to peel off.
In addition to eye wrinkles, chemical peels are used to treat acne scars, melasma, damage from ultraviolet light, and sagging skin. Doctors often recommend such treatments for those who want to achieve glowing skin in addition to reducing their wrinkles.
7.) Takeaway
There are so many different ways to give that much-needed love to the skin around your eyes. From moisturizing and sun protection to getting more sleep, implementing these game-changers into your beauty routine, can help you on your way to improving the skin around your eyes.
Listed Below Are Some Common Eye Area Issues Requiring Eye Treatment:
dark circles

fine lines

puffiness (including eye bags)

crows feet